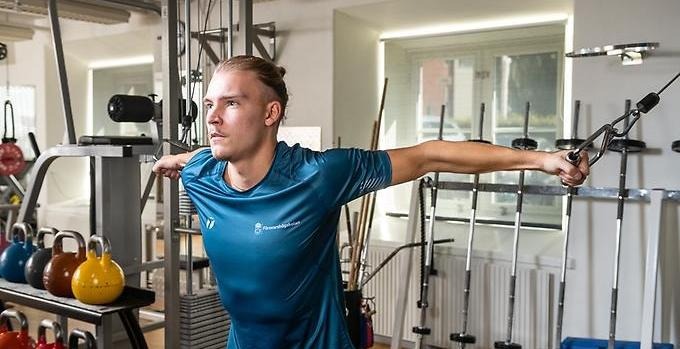 At Drottning Kristinas väg 37 you will find a gym and a sports hall. We also have a room with treadmills and other equipment suitable for cardio training.
Fault reporting about premises or equipment is made to friskvarden@fhs.se.
Sports hall
In the sports hall, you can, for example, play ball sports such as floorball and tennis or participate in various group training sessions.
The sports hall can be booked by contacting friskvarden@fhs.se, see free times at the notice board in the gym corridor. Please note that booked times can be canceled by the SEDU´s wellness staff. Military students have priority for the hall.
Gym
In the gym there are machines and weights for you who want to focus on weight lifting. You will find, for example:
Two stations with barbells
Dumbbells
Cable Machines
Kettlebells
Smith Machine
Cardio room
Next to the gym there is a room with tools and machines that you can use to train both cardio and strength. Here are for example:
Treadmills
Rowing Machines
Spinning Bikes
Stacking Machine
Punching Bag
Kettlebells