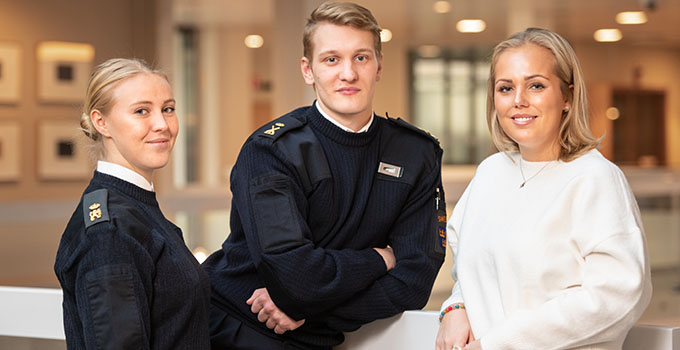 Unique environment at SEDU
Studies at Swedish Defence University - a both civil and military university - offers a unique and completely different experience compared to most other universities.
As a civil and military university where different perspectives complement and enrich each other – and our students – we dare to promise you a unique environment for studying. The university is a relatively small seat of learning which makes for closer contacts between students and teachers. No-one gets lost in the crowd.
Campus located in a dynamic higher education hub
The university campus is located in central Stockholm. It is part of a dynamic higher education hub that includes the Royal Institute of Technology (KTH), the Swedish School of Sport and Health and the Royal College of Music. And Stockholm University is close by. Here you are at the heart of a learning environment.
Great atmosphere at the student pub/officer's mess
The Stockholm Defence University offers students a generous selection of recreational activities. There is the student pub, designed as an officer's mess, a top-class research facility in the form of the Anna Lindh library as well as the university gym. The school serves a complete campus which offers time and opportunity to partake in all these activities.
Wargaming and competition in cyber security
In addition, the Stockholm Defence University is responsible for organising the national heats of the Cyber Challenge, a competition in cyber security and cyber defence for students. The winner goes on to compete in the international Cyber Strategy Challenge in Geneva. Read more here. (LINK) There are also opportunities to take part in other activities, for example the total defence exercise Viking and similar events that bring together both the civil and the military worlds and theoretical and practical perspectives.