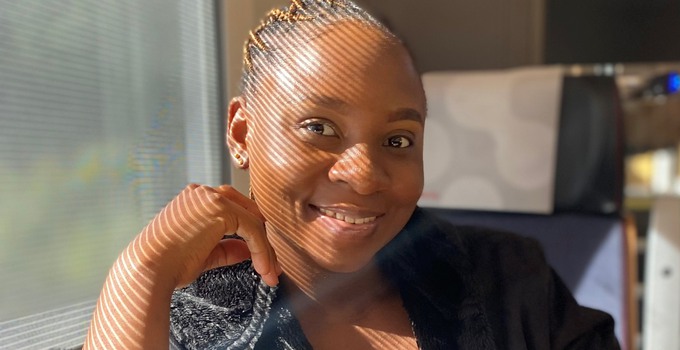 From Nigeria to Stockholm – to study international operational law
Nkechinyere Chukwu is one of 30 students in the Swedish Defence University's master's programme in international operational law. All of them delve into the specific international law that regulates armed conflicts and crises.
Nkechinyere Chukwu just headed more than 6,000 kilometres straight north in taking the next step towards her dream future.
Tell us a bit about your background!
– I'm from Abia State in south-eastern part of Nigeria. I chose to study law in the first place because it is intellectually challenging, to gain self-confidence and to make a difference in society. Also, I must admit that I love the prestige that comes with being a lawyer.
– After my bachelor's degree in law from Abia State University, I proceeded to the Nigerian Law School in Kano State, after which I was enrolled as a barrister and solicitor of the Supreme Court of Nigeria. I did my compulsory one-year internship at the National Assembly of Nigeria in the federal capital, Abuja.
What would be your dream future?
– My long-term goal would be to be an elected politician in Nigeria. That would make me so happy. My people need a more just system, and I am determined to make it better. The government keeps taking away and not giving back. There are also general problems that I would like to help with, such as the issue of insecurity.
How does the Master's Programme International Operational Law fit into your plan?
– I'm certain that this one year programme at the Swedish Defence University will widen my horizon, give me more knowledge of how to address the issues that interest me, and, of course, provide experience. The programme will also give me a greater stance. I believe that people will listen to me and what I have to offer.
What will be your next move after this year?
– I would love to stay in Sweden for a while and hopefully get some working experience and more skills within the field and regarding policies that interest me, perhaps at the Nigerian embassy.
– After that, I want to explore more countries to see what life looks like there. For example, I want to go to the US, UK, Canada, Australia and Switzerland.
– I would like to work for the United Nations in New York, and at some point, I'd like that dream future job of a government position in Nigeria. But I really don't want to rush things. For now, I just like to gain as much knowledge and perspectives as I can. Nigeria is going to be a long-term goal and I need the experience.
How did you learn about the Swedish Defence University?
– My mom's uncle was a diplomat at the Nigerian Embassy in Stockholm, which is actually just across the street from where the Swedish Defence University is situated. He adopted my mom, so she lived with him at the time. Hence, my mom went to primary school here in Sweden when she was a little girl.
– So, I was already open to the idea of Sweden, and when I googled Sweden is ranked among the top 20 countries where you can learn well. My next step was to google the best schools for international law in Sweden. Several options came up, but I especially noticed the Swedish Defence University. It was a cool name; clearly a professional school.
– I only applied to the one year Master's programme International Operational Law. The programme seemed like something that would help me reach my goals in life, open my eyes to new aspects and take me into politics, war and conflict.

You brought your own family with you?
– Yes, my husband and our 13-month-old son came along. And last Friday, I gave birth to our second son here in Sweden
What is your class like?
– We are 28 people in our class from Belgium, the UK, Syria, Gambia, Tunisia and Sweden. Everyone is so enlightened. In Nigeria, the academic level is not as high. Here, we are expected to participate, and everyone has an opinion on every topic that is raised. I really learn from everyone, not just the professors. In this field of law, there is often no right or wrong, but it is all about the argumentation. I often prefer to listen rather than speak.
How are the studies?
– They are quite demanding, back-to-back, and a high pace with lectures Monday to Friday, seminars and exams. When the day's work is finished, you prepare for the next day, and when you have seminars, you have to work that extra mile. It can wear you down, but so far, so good. It's helping me to work under pressure. One thing I really appreciate is that you have the examination directly at the end of a course, before you move on to the next course.
I know you appreciate the opportunities for hybrid studies?
– Yes, the flexible programme where you can follow certain classes online is really working great. Everyone participates in discussions.
What has been most rewarding so far?
– That would probably be the table talk exercises, where the school invites officials from the navy or military. They tell us about their envisioned problem, and we give them our legal advice. I also enjoy the case scenarios, for example where our professor plays the newscaster and we get to react to things that could and will happen in real life.
What are you learning from the program?
– I think the programme is teaching me how to learn efficiently and helping me to analyse and comprehend information in a more informed way. I am also learning how to do case work and how to work under pressure.
What character traits has taken you all this way?
– Well, I always follow my interests and I go for what I want.
Quick facts about Nkechinyere Chukwu
Age: 24 years.

Film/TV series: Dynasty, Suits, Silverton Siege.

Favorite foods: Eba and egusi soup.

Music: R&B, gospel and dancehall.

Motto: Be yourself and let others adapt.
Page information
Published:

2022-12-05

Last updated:

2023-10-19