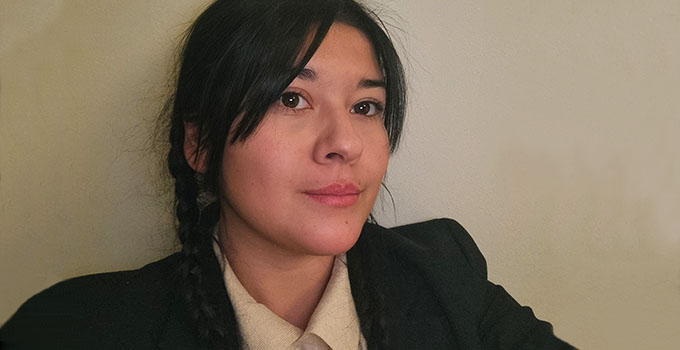 Emma played the role of defence lawyer in the role play with the ICC judges
Scenario-based role plays and tabletop exercises are popular features in the programs of the Swedish Defence University. We are having a chat with the Belgian student Emma Gonzales-Puell, at the LLM Programme in International Operational Law. She just took on a real challenge.
As part of a course on international criminal law that she is currently taking, her lecturer Nobuo Hayashi created a role play in the form of a fictional war crimes moot court hearing. Although the chain of events that was discussed was strictly fictional, the judges on the bench were not. Three prominent international judges had flown in from The Hague to the Swedish Defence University for this very event. As prosecutors and defence lawyers, the students plead the fictional case. Emma Gonzales-Puell played the part of co-counsel for the Defense.
Why did you want to participate?
– I wanted to see how my oration skills were, especially in front of three unknown judges. During the two previous moot courts held with the other students, I felt more at ease and relaxed, and I thought that it would be interesting to see how well I could convince a panel of judges whom I knew nothing about and who didn't know me either.
What were your expectations?
– That this panel of international experts wouldn't let anything slip through the cracks and that they would make sure that we experienced the conditions in a real court setting.
And did the panel meet these expectations?
– Yes! Very much so. The judge panel was both tough and gentle. They asked difficult questions and could easily debunk our arguments, but thanks to the right amount of preparation we were all able to answer the questions with enough ease.
Describe your experience!
– I had a lot of fun. Coming up with a well-articulated response to a question that you don't necessarily expect is complicated, but with the right amount of confidence I believe that we can all do it. I hope The Swedish Defence University organises more moots like these, because I would love to participate again.
What are you taking away from this experience?
– Not to be so self-conscious of my ability and to cope under a stressful situation. It was easy to feel overwhelmed by the questions and the attention, but I believe I coped well, and it showed me what I was able to do.
What did you learn?
– I learned how to communicate with my team and trust them. As part of the preparation, we arranged time allocation, main arguments, rejoinders, etc. When you are presenting your argument, you might feel lonely because no-one knows your argument better than you do, but I felt the team's moral support and the trust we have in each other.
Was there anything you particularly appreciated?
– The judges! It was fun having international jurists in front of us, people who work within the system that most of us wish to work in. It was particularly rewarding to see their acquiescing of particular arguments or responses. That made me feel confident.
Were you nervous?
– No, I wasn't particularly nervous. But you never know what questions are going to be asked, or what the prosecution might raise, so there are a lot of unknown factors. You have to trust that you have prepared enough to be able to cope with all of that.
How would you summarize your experience?
– It went beyond my expectations. The set-up was great, the other students were so well prepared and we all took our roles seriously. It was great to see such a high level of involvement from the students and the judges.
How was it to meet the judges?
– I was surprised that they were wearing robes. That was a great extra-touch! They all seemed rather tough, both in their facial expressions and in their questioning, and really did everything that their job requires. They made this exercise real.
Reportage: Students make their case to actual ICC judges
Interview with Nobuo Hayashi: "Role-playing takes law out of the textbooks"