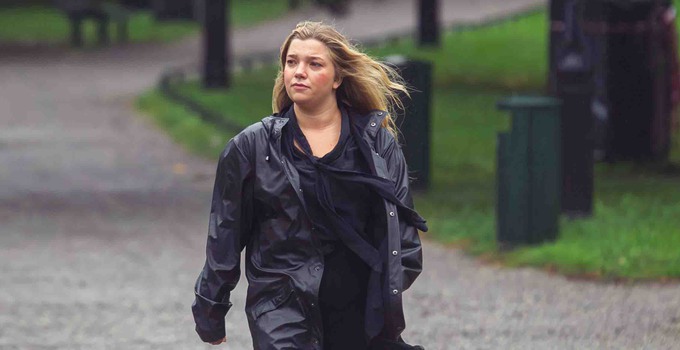 Law meets new technology in military operations
How will AI affect future warfare and what does law have to do with it? When lawyer Cornelia Engelhardt studied at the Swedish Defence University, she explored how law meets new technology in military operations.
Cornelia Engelhardt started studying at the Swedish Defence University after finishing her law degree at Stockholm University. Here, she received a solid education and unique expertise in international law. Her special interest is understanding how technology, including cyber technology and artificial intelligence, will affect future conflicts.

Why did you decide to study at the Swedish Defence University?
– When I found their programs, I knew it was just what I wanted. The timing worked out well. I like challenges and solving tough problems, and the Swedish Defence University offers the kind of challenges I enjoy. It was a chance to improve my critical thinking and explore new aspects of the legal field.
What sparked your interest in defence matters?
– When I was younger, I never anticipated being drawn to this field. However, during a semester in The Hague, I developed a strong fascination for international law, which motivated me to further my studies at the Swedish Defence University and the master's program in international operational law.
How was the sense of community and working with fellow students at the SEDU?
– We had a close-knit community and often met during lunch to work together and share ideas from different educational programs. And my supervisor was very helpful, not just with academic issues like when I wrote my thesis on cyberattacks, but also in terms of my career growth.
What are your future plans?
– I am driven by being a part of something bigger, where I feel I can make a positive difference. Right now, I work for the Swedish Armed Forces, and I believe I want to continue working with defence-related issues, especially in operational law which is about applying law in conflict situations and military operations. I'm particularly interested in how technology, including cyber technology and artificial intelligence, will affect future conflicts.
What stood out the most during your studies?
– The teachers' expertise was invaluable. Learning from such experienced lawyers was a fantastic opportunity. It was inspiring to have teachers from around the world sharing their experiences, making our education richer. The SEDU has a good reputation and provides strong personal support and teacher interaction, which really boosts the learning experience.
Which courses or moments stood out as particularly significant for you?
– The course "War, Law and Emerging Technology" stood out to me because it examined the legal aspects of cyber warfare and military use of outer space, among other things.
– We also had a great class in international criminal law. In that class, we had a mock trial where we took on roles as either prosecutors or defence lawyers and debated whether a character from a movie was guilty or not. This experience gave me useful real-world insights and made me feel more confident. It was fulfilling to put theory into practice.
What global challenges interest you the most at the moment?
– Adapting our laws to keep up with fast-paced technology is a fascinating challenge. It's both exciting and demanding when technology is advancing at a rapid pace. My studies at the SEDU helped me better understand how global challenges have evolved over time.
More about the Masters' programme International Operational Law
Quick facts about Cornelia Engelhardt:
Age: 24 years

Education: Holds a Master's degree in international operational law from the Swedish Defence University.

Hometown: Raised in Stockholm, currently residing in Nacka with her partner and cat.
Dream dinner meeting: The Swedish Supreme Commander to discuss global security situations.

Hobbies: Enjoys playing the violin, practicing yoga, and cross-country skiing.

Favorite TV series: Top picks include "The Office," "Friends," and "Lucifer".
Entertainment tips: Suggests tuning in to the Swedish documentary radio show "P3 Dokumentär" for a diverse range of educational content that appeals to many interests.
Page information
Published:

2023-10-20

Last updated:

2023-10-20