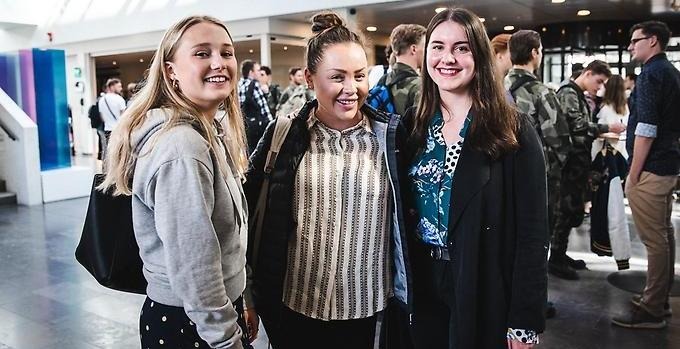 If you have been admitted to one of our programmes or courses, here is a step-by-step guide regarding what you need to do before commencing your studies.
In order to accept your admission offer and confirm your commencement, you need to officially accept your seat by replying YES in the portal you have used for your application (antagning.se or universityadmissions.se).
Spring semester 2021: important dates
The admission offers are published on universityadmissions.se on 10 December 2020. Should you not reply by the deadline of 16 December 2020 your offer will be regarded as declined and instead made available to another applicant on placed on the waiting list.
If your status requires that you pay tuition fees, please follow the instructions for payment in your welcome letter from SEDU.
All students need to register before the commencement of their studies.
The main online registration period for studies starting in the spring semester 2021 opens 4 January at 10:00 am and closes 10 January.
Once you have registered, a student account (SEDU account) is automatically created. This account is used to log in to different services such as your email, student platform and library website.
Instructions by email
Students without a Swedish Bank-ID will be emailed the instructions for activation of the university account in January.
Schedule (Timeedit)
Before registering you can access a public version of your schedule. The detailed version of the schedule becomes available after registering by logging in with your SEDU account on timeedit.
Learning Management System (Canvas)
Once you have activated your SEDU account, you can log in to the Learning Managment system Canvas.
Canvas consists of course areas for ongoing courses. In the course areas you can, for example, access lecture materials, submissions, information, schedules, discussion forums and evaluation forms.
Programme for distance learning (Zoom)
Zoom is the software used for distance learning at the Swedish Defence University. To get started, please read the guide at the Anna Lindh Library webpage.
We recommend that you start purchasing your course literature for your first course as soon as possible to make sure you are prepared when the studies start.
Freestanding courses
Course literature lists for freestanding courses are available on the course pages. Go to Search courses.
Your access card is created once you have registered at your course or programme. You can get your card at the security/reception in the main building at Drottning Kristinas väg 37.
If your studies start in the autumn semester 2020, you can pick up your card 18 January at the earliest.
Please note: if your course or programme has switched to distance learning due to Covid-19, and you therefore do not need access to our premises, you do not need to pick up your access card in the start of the semester. However, your card will be ready for pick up once you are able to come to campus physically.
Information for new students regarding Covid-19
The Swedish Defence University will have distance learning as a main rule for the first half of the semester (ie from the start of the semester January 18, 2021 through March 28, 2021). Current recommendations for teaching, based on the new, stricter local restrictions, remain in effect during the first study period and until expert authorities and the government issue new recommendations.
General information for students regarding Covid-19.
Practical information

Here at the student web is where you find most of the information that you need during your time as a student at SEDU. To give you a head start, here are some of the things you might want to know about as a new student.
At SEDU, you have access to several IT-functions. If you have any questions, you can get support from our Helpdesk by email of phone.
The Anna Lindh Library is a university library specialised in defence and foreign and security policies. The library is a resource for students, teachers, researchers and personnel at the Swedish Defence University.
Tour of the library (in swedish)
Find out what you need to know for your and others' safety at the Swedish Defence University. In case of acute, serious incidents/emergencies - call 112 for the police or emergency services.
At the Swedish Defence University, there are various kinds of support that can help you succeed with your studies and with your wellbeing.
Study habits and study techniques
As a student, you have the right to influence your studies and life at SEDU. One way to get involved is to become a member in the SEDU student union.