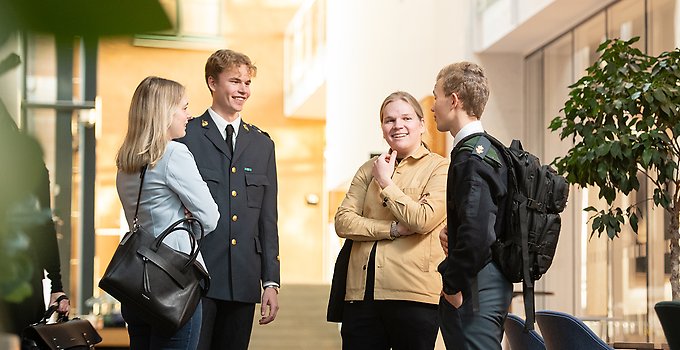 Welcome as a new student at the Swedish Defence University! Here is everything you need to know and do now.

During the time between the admission decision and the start of the study, there are a few things you need to do. In order not to miss any important preparations, you can take the help of the checklist below.
Checklist for starting your studies
The admission results are published on www.universityadmissions.se. in March/April or July for Autumn semester studies (depending on what you have applied for) and December for spring semester studies. If you have been admitted, or waitlisted in selection 1, you need to accept the offer to keep your place. Please see www.universityadmissions.se for more information.
Conditionally admitted
You need to accept your place even if you have been conditionally admitted. Being conditionally admitted means that you must meet the condition before you can register for the course. Please contact antagning@fhs.se as soon as you have fulfilled the condition, in order to register for the course.
Waiting list admission
After the regular registration period has closed, the Swedish Defence University will begin admitting those on the waiting list, to the courses that have not been filled. For the autumn semester's courses, admission from the waiting list will take place during week 34. For the spring semester's courses, admission from the waiting list will take place during week 2.
If you have been waitlisted and received a new admission letter and email with an offer from the Swedish Defence University, you must register to keep your place on the course. Information on how to register can be found under the third item "Register".
As confirmation of your registration, you will receive an email from our IT department with information on how to activate your FHS account. The email will be sent to the email address specified in Ladok.
We only contact those waitlisted by email. Remember to also check your spam. The Swedish Defence University does not have a roll-call on campus to where you can come to take a place to study.
Key dates and deadlines
A successful admissions process depends a lot on meeting deadlines. Find out all the important dates for your application to courses and programmes in Sweden.
For students accepted to an International Masters program, different conditions apply. Please refer to the welcome letter that is sent out in the beginning of April.
All students need to register in Ladok during registration week August 14th- 20th before they begin their programme.
For all International students, without a Swedish personal ID number, we will assist you with this process.
If you do not have a Swedish personal ID number SEDU needs to make the registration for you. Please let us know, by emailing masterprogramme@fhs.se
When the regular registration period is closed, the registration period opens for those that have been waitlisted.
For those who are admitted to Tactical and Ethical Aspects of Autonomous Systems, Critical Security Studies and Technology and System Perspectives for Comprehensive National Defence, registration is open from 23-29 October.
Once you have registered, a student account (SEDU account) is automatically created. This account is used to log in to different services such as your email, student platform and library website.
Instructions by email
If you do not have a Swedish Bank-ID, please send in the following documents to masterprogramme@fhs.se:
a valid passport photo scan including passport details
a valid mobile phone number to you (does not have to be a Swedish number)
a household bill with your name and address visibly attached (could be a mobile phone bill, electricity bill or similar).
Once we have these documents, we will send it to the IT Office in order to create your SEDU university account. Our IT Office will send you information about how to activate your account. You can still register without the SEDU university account, see step 3 Registration in this guide.
Schedule (TimeEdit)
Before registering you can access a public version of your schedule. The detailed version of the schedule becomes available after registering by logging in with your SEDU account on TimeEdit.
The schedule for the Autumn semester will be available at the end of June.
Learning Management System (Canvas)
Once you have activated your SEDU account, you can log in to the Learning Managment system Canvas.
Canvas consists of course areas for ongoing courses. In the course areas you can, for example, access lecture materials, submissions, information, schedules, discussion forums and evaluation forms.
Tool for online sessions (Zoom)
Zoom is the software used for online sessions at the Swedish Defence University. To get started, please read the guide at the Anna Lindh Library webpage.
We recommend that you start purchasing your course literature for your first course as soon as possible to make sure you are prepared when the studies start.
The course literature lists for the Autumn semester will be published in June.
Freestanding courses
Course literature lists for freestanding courses are available on the course pages. Go to Programmes and courses.
Your access card is created once you have registered at your course or programme. You will receive your card at the programme introduction on August 28. There is a temporary desk at the entrance level outside the Anna Lindh Library. The desk is open 9-17 on Introduction Day.
Please remember to bring a valid photo ID.
The first day of the autumn term is August 28, and the Swedish Defence University invites you to an introduction day for new students at Drottning Kristinas väg 37.
During this day you will get more information about your studies and get to meet teachers and fellow students. The Swedish Defence University will also offer a light lunch according to the schedule below, and towards the end of the day there will be a gathering at the Officers' Mess for all new international students.
The Student Union also holds introductions during the day, please check the schedule below.
IMPORTANT information regarding Introduction Day 2023
As the terrorist threat level in Sweden has increased, we have taken certain security measures. Please note the following:
There may be a queue at entry so be out in good time.
Do not forget identification card/passport or equivalent – you will be asked to identify yourself.
Leave large bags and bulky outerwear at home. We do not have a manned cloakroom.
Welcome to the SEDU
Meet Mathis Dupas, international student at the Master's Programme in Politics, Security and War. Mathis Dupas talks about being a student in Sweden and at the SEDU.
Practical information

Here at the student web is where you find most of the information that you need during your time as a student at SEDU. To give you a head start, here are some of the things you might want to know about as a new student.
At SEDU, you have access to several IT-functions. If you have any questions, you can get support from our Helpdesk by email of phone.
The Anna Lindh Library is a university library specialised in defence and foreign and security policies. The library is a resource for students, teachers, researchers and personnel at the Swedish Defence University.
Find out what you need to know for your and others' safety at the Swedish Defence University. In case of acute, serious incidents/emergencies - call 112 for the police or emergency services.
At the Swedish Defence University, there are various kinds of support that can help you succeed with your studies and with your wellbeing.
Study habits and study techniques
As a student, you have the right to influence your studies and life at SEDU. One way to get involved is to become a member in the SEDU student union.
We have gathered the most important things you need to know when you are new i Sweden. For example how to get a Swedish Bank ID and a Swedish Personal Identity Number.