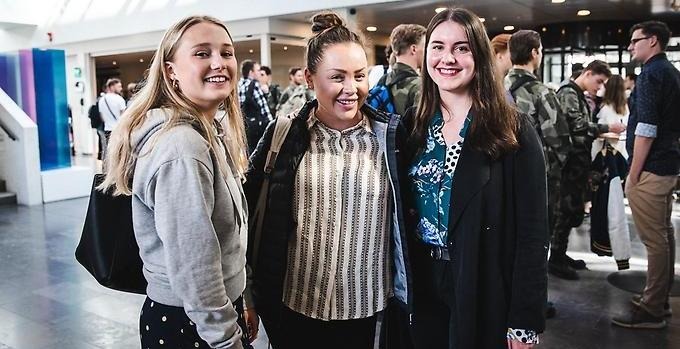 If you have been admitted to one of our programmes or courses, here is a step-by-step guide regarding what you need to do before commencing your studies.
The admission results are published on www.universityadmissions.se or www.antagning.se by Fri April 9, 2021. Admitted students will receive a Welcome Letter by email shortly after April 9.
Reply yes to keep your place
An offer of admission from SEDU requires that you actively reply yes to keep your study place. You reply yes in the admission portal www.antagning.se or www.universityadmissions.se.
You have to reply yes by the deadline of Friday July 23, 2021 in order to keep your place or your place will be offered to another applicant.
If your status requires that you pay tuition fees, please follow the instructions for payment in your welcome letter from SEDU.
All students need to register before the commencement of their studies.
The main online registration period for studies starting in the autumn semester 2021 opens 16 August at 10:00 am and closes 22 August.
Once you have registered, a student account (SEDU account) is automatically created. This account is used to log in to different services such as your email, student platform and library website.
Instructions by email
If you do not have a Swedish Bank-ID, please follow the instruction in your Welcome Letter you received by email and attach the documents required together with your mobile number to masterprogramme@fhs.se. Our IT department will send you information about how to activate your account in late August, after the registration week. You can still register without the SEDU account. Follow the registration link under step 3 in this guide.
Schedule (TimeEdit)
Before registering you can access a public version of your schedule. The detailed version of the schedule becomes available after registering by logging in with your SEDU account on TimeEdit.
The schedule for the autumn semester 2021 will be available at the end of June.
Learning Management System (Canvas)
Once you have activated your SEDU account, you can log in to the Learning Managment system Canvas.
Canvas consists of course areas for ongoing courses. In the course areas you can, for example, access lecture materials, submissions, information, schedules, discussion forums and evaluation forms.
Programme for distance learning (Zoom)
Zoom is the software used for distance learning at the Swedish Defence University. To get started, please read the guide at the Anna Lindh Library webpage.
We recommend that you start purchasing your course literature for your first course as soon as possible to make sure you are prepared when the studies start.
The course literature lists for the autumn semester 2021 will be published in June.
Freestanding courses
Course literature lists for freestanding courses are available on the course pages. Go to Search courses.
Your access card is created once you have registered at your course or programme. You can get your card at the security/reception in the main building at Drottning Kristinas väg 37.
If your studies start in the autumn semester 2021, you can pick up your card 3o August at the earliest.
Please note: if your course or programme has switched to distance learning due to Covid-19, and you therefore do not need access to our premises, you do not need to pick up your access card in the start of the semester. However, your card will be ready for pick up once you are able to come to campus physically.
Your studies begin on August 30, when our new students at the Swedish Defence University are most welcome to an online introduction day.
You will receive an invitation to the event on the email address that you use at universityadmissions.se.
The study social committee at the Swedish Defence University's student union arranges introductory activities during weeks 35 and 36. Find out more here.
Information for new students regarding Covid-19
The Swedish Defence University's position on easing of Corona restrictions
The government's and FHM's plan to gradually introduce easing of Corona restriction means that the University can gradually open up to more campus-based teaching. This will still be done with restrictions that allow for a safe return and the possibility of returning to distance learning should the situation become worse again.
The SEDU's recommendations from autumn term 2021
Campus-based teaching wherever possible and in a Corona-safe format, which means smaller groups for on premises teaching activities, in order to comply with recommendations for corona safe distance.

Lectures are held remotely until at least October 1, or until new information is provided

Teaching should be planned so that students with symptoms of illness can fulfil the education requirements without coming in to the university. Different types of efforts may be needed, such as supplementary tasks, rooms prepared for hybrid teaching where students can participate in real time and other mobile solutions.
We continue to ask students to limit the frequency of meetings and the number of people meeting for informal student activities such as group work, and studying on the premises. This is due to avoid crowding and the risk of infection, which could mean that we have to close down again.
The SEDU's recommendations from October 1
From week 40, we expect to be able to open up more if requirements to avoid crowding are lifted and we can therefore make full use of the premises. More information to follow.
You can email us if you have further questions: masterprogramme@fhs.se
Practical information

Here at the student web is where you find most of the information that you need during your time as a student at SEDU. To give you a head start, here are some of the things you might want to know about as a new student.
At SEDU, you have access to several IT-functions. If you have any questions, you can get support from our Helpdesk by email of phone.
The Anna Lindh Library is a university library specialised in defence and foreign and security policies. The library is a resource for students, teachers, researchers and personnel at the Swedish Defence University.
Find out what you need to know for your and others' safety at the Swedish Defence University. In case of acute, serious incidents/emergencies - call 112 for the police or emergency services.
At the Swedish Defence University, there are various kinds of support that can help you succeed with your studies and with your wellbeing.
Study habits and study techniques
As a student, you have the right to influence your studies and life at SEDU. One way to get involved is to become a member in the SEDU student union.